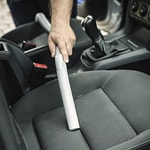 Most people assume that car detailing involves a simple wash and wax job. However, the task is an art that requires a high level of care, and our team at Braden Chrysler Dodge Jeep Ram in Gallipolis, OH would like to let you know how to do it right.
Before you start the detailing task, it is essential to evaluate your vehicle thoroughly. You can then break down the tasks you need to carry out. It is not advisable to do multiple things in an unplanned manner. You should also invest in quality cleaning products and tools that will eliminate stubborn dirt while maintaining the shine you desire.
It is advisable to use two buckets of water while washing your vehicle. One should have shampoo, while the other shouldn't. This prevents washing your car with dirty water.
Apply wax with a power buffer and use a soft and dry cloth to remove it. This ensures there are no swirls on the clear coat.